Rockin' at the Shrine!
Sunday, June 9, 2019 through June 10 7:00pm - 10:00pm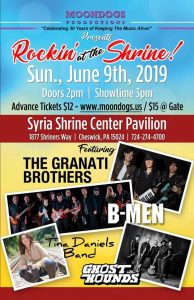 Bmenpgh will be playing live at the Shrine Pavillion on June 9, 2019, at 3 p.m., doors open at 2 p.m.Along with the Bmen,, this event will also feature The Granati Brothers and the Tina Daniels Band.  This should be a night to remember.  Come join us and enjoy the musical show.
Shriner's Pavillion
1877 Shriners Way
Cheswick