The financial success achieved by individual members of the B-Men has allowed them the opportunity to play music for love and to give back to their communities. The band is committed to helping those less fortunate, especially children, and has raised thousands of dollars for several charitable organizations. Charities they support include the following: Children's Hospital of Pittsburgh, which is dedicated to excellence in comprehensive patient care, education and research for infants, children and young adults. The hospital's mission is to serve as a community resource for all patients and their families, providing compassionate, state-of-the-art treatment; training opportunities for pediatric health care specialists; and support for medical research efforts. Family Resources, the largest agency in Western Pennsylvania devoted solely to the prevention and treatment of child abuse. Formed in 1986, the United Way-supported organization, which works to strengthen families and communities, has provided comprehensive services to more than 5,000 families in their homes and neighborhoods and at its Family Retreat Center.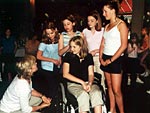 The Autism Society of Westmoreland County, which provides individualized support, education, training and other services for people with autism. The society's goal is to help its clients reach their potential to participate in the same valued experiences and life events as other citizens. The B-Men also have performed in support of other charities and non-profit organizations, including the Conductive Education, The Westmoreland County Alzheimer's Association, Save The Children Foundation, St. Anthony School, the Lupus Foundation, ARC Allegheny, the Homeless Children and Family Emergency Fund and the International Organization of Gluteric Acidemia, which raises awareness about and funds for treatment of this rare, brain-damaging metabolic disease.
Thanks to the generosity of The B-Men and all of their fans, a milestone of $250,000 has been reached in contributions to various organizations and charities.

LETTER FROM DAVE SHUTTS (Former B-Men band member)
For many years I have felt that I was already on the "receiving end" of the
B-Men rewards machine.  Playing real honest-to-God music with real
honest-to-God musicians on a real stage with real lights, a real sound
system, and real fans has always been such a high for me that it wasn't
unusual for me to forget that the whole thing was actually for someone else
(or a charity) and not me.   For many years I have been loudly singing the
praises of the B-Men organization, whose efforts have poured many
thousands of dollars into local and national charities – not to mention the
many individual benefits and causes within our very own communities.  For
many years I have humbly shook my head staring at my shoes in amazement that
I actually was able to play a very small part in this organization with a
heart bigger than the sum of its members.
For many years I have watched from stage left countless grateful charity
spokespersons and celebrities say cracking-voice thank-yous, loving mom's
embrace their critically ill sons, and individuals in need give teary-eyed
monologues on how their lives are so much richer because of something as
simple as B-Men music, but it is so much more than the music.
You folks really touched me more than I ever thought possible – and without
taking the stage or playing a single note.  Sending a B-Men casserole
would have been very thoughtful.  Ordering a family-size pizza for me and
the kids would have been way too kind.  In fact, the simple phone calls were
so deeply appreciated.  But in true B-Men fashion, you folks did it up
big and bought an entire Italian restaurant for me and my kids. and
delivered it straight to my kitchen (thank you Jen and Daniel).  There are
many people in the world with true needs or at the very least, whose needs
far exceed mine.  But in a very selfish way, I feel so grateful for your
kindness that I am actually wallowing in your generosity and truly breathing
sighs of relief knowing that mealtimes are NOT looming "to dos" for me
during my recovery.  Though I'm still a bit weak, cooking didn't really seem
to be that big of a deal – until today when I realized I didn't have to
worry about it for 6 months! LOL  You folks have managed to reduce my stress
level even further – and THAT is no easy feat.  I know my doctor is very
grateful.  I am even MORE grateful.  And I know my kids are too.
These past 6 months have really tested my resolve and mettle in life.
Words really can't begin to express how much your generosity means to me
during these crazy and stressful times.  Aside from the positive emotional
aspect of your 100-pound care package, you guys really made my life a whole
lot easier during my recovery — thankfully I have a 2nd refrigerator and
freezer.  And despite enjoying the B-Men rewards all those years, I got to
enjoy a whole new level of rewards today.  I got to join the ranks of those
recipients thanking the B-Men for changing my life, for making me feel
loved, and for selflessly reaching out and caring for not just me, but my
kids as well.  Sometimes, you don't realize how badly you need a handshake,
a punch in the arm, or a hug — until you get one… or 16.
My deepest heart-felt thanks to all of you!  You guys rock and are still the
best.
Dave Shutts